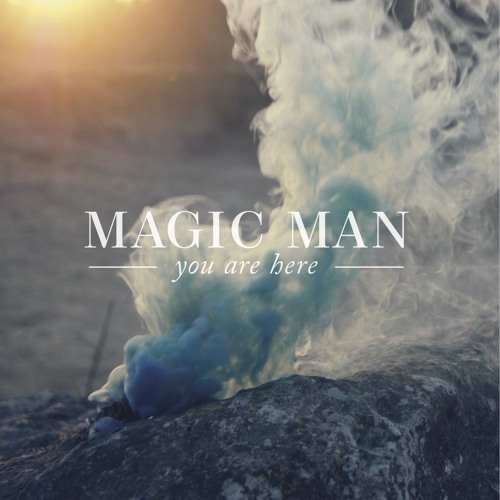 Magic Man
You Are Here
This five piece band from Boston first caught my attention through a random encounter with one of their tracks on Soundcloud. Since then, they have become a band I've been keen to hear more of so I went in search of this, their new EP. 'You Are Here' comprises of five tracks of pop fuelled dancey indie that will become an instant earworm and probably one of your summer soundtracks.
Kicking straight into 'Texas' with pounding drums, crashing cymbals and synth-a-plenty, it reminds me of Passion Pit's latest album sonically. High pitched yet harmonious vocals carry us through calmer yet still upbeat verses into hook laden choruses that will easily see you dancing along to the upbeat rhythm.
Quick, muffled keys take us to fuzzy, dubby bass sounds and jutting electronic sounds in 'Paris'. Verses see vocals backed up by a never-ending piano and steady drum before chorus build up's see quickening vocals and a marching beat. This track is a bit slower and more subdued in tempo but it's still loud, catchy and a wonderful example of indie sounds mixed with dance and pop influences.
'Every Day' opens with deep bass sounds, hi hats and spiky high pitched synths before subsiding for vocals backed up by a strong bass line. Choruses may be upbeat and poppy lyrically but come the verses the lyrics about love are more meaningful and there is an air of Haim's 'The Wire' running throughout this, from that great rhythm and throwback 70's air mixed with the more modern synths.
Building atmospheric sounds are layered upon with a steady drum and melodic vocals making 'Nova Scotia' a calmer outing especially with the flowing verses. If there is one thing this band can do it's write a big chorus and they have succeeded in that here again, it may not be as poppy or induce as much hip swaying than previous efforts but it will kick-start sing a long's when played live.
80's synths, a fast commanding bass line and echoey vocals all create a nostalgic feel that runs prominent in EP closer 'Waves'. Layers of big sounds in the choruses create an air of grandeur, something not seen as much these days but completely adds to the 80's feel of this. It's a strong track and definitely the perfect choice to close proceedings.
This EP sees the band take us through their musical influences and the eras and mixing it with their pop meets indie sound and penchant for a massive chorus. Everything here is very good and well put together, it may not be totally new in terms of being very reminiscent of other acts but it is a very collection of tracks and well worth a listen.
To find out more about Magic Man visit their website, their Facebook page, their Soundcloud page or you can follow them on Twitter – @MagicMan